Welcome to Elsinboro Township School District

Elsinboro Township Board of Education is accepting applications for the following positions:

1) Substitute Teacher, Substitute Nurse, Substitute SACC worker, Substitute Secretary, Substitute Custodian, or Substitute Cafeteria Worker.
Contact the Main Office at 856-935-3817
2) Speech Therapist: Shared Position, effective September 2022. NJ Department of Education Speech Language Certification required. Please note this position will be shared with Mannington Township School District.
3) Maintenance Coordinator: Full-time (12 months), effective on/about October 19, 2022. High School Diploma and a minimum of 4 years experience in school operations and maintenance, repairs, security, and heating and ventilation required. Low Pressure Black Seal NJ Boiler Operator required. Knowledge of and experience in a school custodial program preferred. Deadline to apply October 3, 2022.

Interested applicants should apply with a letter of interest and resume to lkretzer@elsinboroschool.org or mail to Elsinboro School, ATTN: Employment, 631 Salem Fort Elfsborg Road, Salem, NJ 08079. Deadline to apply: Friday, July 29, 2022.
Harassment, Intimidation, and Bullying (HIB)
HIB Coordinator
Amy Weinert

631 Salem Ft-Elfsborg Road
Salem, NJ 08079
aweinert@elsinboroschool.org
856-935-3817 ext. 116

HIB Specialist
Laura Gallagher
631 Salem Ft-Elfsborg Road
Salem, NJ 08079
lgallagher@elsinboroschool.org
856-935-3817 ext. 133
The HIB Policy and reporting a HIB Form 338 are available at the link above. (An example of the icon is shown here.)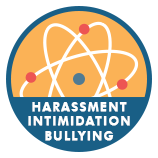 NJDOE's State School Climate Coordinator (hib@doe.nj.gov)